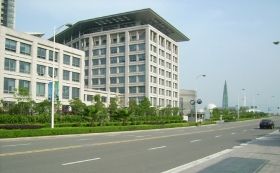 WENZHOU AUTOPARTS & INDUSTRY CO., LTD (OPS)
Since 2003, as one of the largest manufacturer and supplier for automotive components and genuine parts, was firstly co-founded by local outstanding entrepreneur partners. We supply auto parts & car accessories both for OEM and aftermarket.
Main products: Thermostats, sensors, switches, relays, plugs, regulators, modules, fuel pumps, motors, valves, cylinder gaskets, engine parts, plastic & rubber mould develop for automotive industry.
We closely associate with other Chinese leading auto parts manufacturers to enlarge global market.
To accomplish our mission of developing high quality auto parts and supply our excellent solution to all global distributors and clients, we sincerely regard our clients as intimated partner and always serve in a delighted efficient way.
We promise eternal good quality and competitive price. Adopt wisdom and by our hard work we believe a better life style and do any we can for an ideal automotive technology solution.
Management System
We have been taking up to bring our local auto parts manufacturers to a strong union, with more than 120 specialized cooperative partners. We have aggressively extended our production range into various automotive industry supplies. Main organization structure: 1) Auto Engine parts department involves the products from cooling system parts, fuel supply system parts to engine mechanical parts; 2) Auto electrical parts department include sensors, switches, relays, flashers, regulators, ignition module, coil, pumps, motors and so on automotive electronic & electrical system parts; 3) Brake and suspension system department with the product brake cylinders, brake pads and clutch, tie rod, ball joint, drive shaft, C.V. joints, control arm, adjustors, bearings etc.. 4) Auto accessories department; 5) Equipment and materials for automotive industry.
We always take quality for OPS's life. Since the establishment, we sincerely promise to guarantee the service quality and to continually provide reliable and excellent genuine parts to our customers. Most of our enterprise members have been certified under ISO/TS16949, ISO9001. Many of OPS automotive products are certified under important international certificates, such as E-mark, ROHS, DOT, EPA, GCC, GOST, SABS, LVCM&CAT, SASO, ISIRI, SONCAP, PVOC, ADR. OPS has become a reputed enterprise in the automotive industry.
Sustainable development is the core part to all aspects of OPS, and we continue to commit ourselves to sustainability.
1) Focus on core businesses.
OPS expand the core business in automotive industry supply.
2) Continue in improving quality, technology, and procedure control.
Quality is always the whole life of OPS. Considering new automotive technology plays an important role in quality improvement, OPS makes an investment around 2% of sales annually into technologies innovation. Besides, OPS also simplifies, rationalizes the procedures and organizations for sustainable development.
3) Cost-oriented.
One of the outstanding advantages of OPS is that we can supply high-qualified and cost-effective auto parts to our customers.

4) Focus on distributors, customers and construction of sales networks.
We have a plan to produce agents all over the world ensure auto parts end users could access to our service and products whenever and wherever.
5) Strategic alliance.
To make possible strategic alliance relationship with some global automotive leaders will lead to win-win situations. It ensures better service to all our customers. We have established a sound sales network composed with more than 30 agents through the world. Meanwhile, we plan to emphasize auto parts international sales in USA, Europe, Middle East, North Africa and South America. It comprises with OPS's agents, sole distributors, distributors, local partners.
In a dynamic and ever-changing world, OPS determined to march further into the international automotive market. With its state-of-the-art technologies, production expertise and emphasize on innovation, OPS is anticipating more co-operations with partners. We are hoping to bring more power into every corner of the world.